It is a pleasure to offer a warm welcome to visitors to the new AATSP Massachusetts Chapter website. It is fitting that we inaugurate this site reflecting the technology of our new century while we celebrate the 90th anniversary of our esteemed and much appreciated national organization, the American Association of Teachers of Spanish and Portuguese, which has served the profession so well for almost a century.Our purpose is to inform, support, and engage our members and other members of the Spanish and Portuguese teaching profession at all levels.Through our links we hope to keep you connected with the many opportunities and resources of interest to the profession. Through our updated announcements and news items we hope to engage you in collegial activities.  Through our e-mail and chapter activities we hope you will interact and become involved with our organization at the local and national levels. Opportunities abound for both novice teachers and seasoned professionals and we encourage members to keep current through frequent visits to both the national and the chapter web-sites and their related links.  We welcome your ideas, feedback and inquiries; just contact the chapter by clicking here.
We hope to see you in person at future chapter events.  Just click on "Chapter News".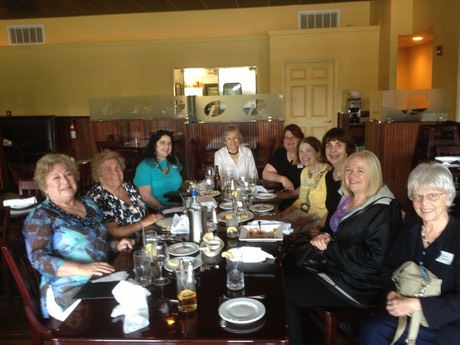 Long-Standing Members of the Massachusetts Chapter Gather to commemorate the life of Joyce Haggerty, our Chapter President for many years.